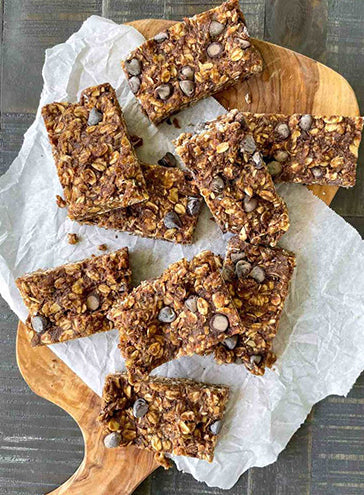 Banana Caramel Protein Bars
Ingredients
2 bananas, mashed.
3 tbsp peanut butter (or any nut butter)
1 tbsp maple syrup
3/4 tsp cinnamon
1 cup rolled oats.
1/3 cup flaxseed meal
2 tbsp unsweetened shredded coconut
1 tbsp chia seeds
3 tbsp tsp chocolate chips (any kind or chunks)
50g banana caramel protein powder (2 sachets)/li>
Directions
Mix the mashed bananas, banana caramel protein powder, peanut butter, maple syrup, and cinnamon until well combined.
Add the oats, flaxseed meal, coconut, and chia seeds.
Mix until well combined. Fold in the chocolate chips.
Press into an 8 X 8 baking dish lined with parchment paper. Refrigerate for 3-4 hours.
Cut into squares. Store in the fridge!